Geographia
Travel Partners
Viator Argentina
Local tours and activities.
Transfers and day trips. -->>


---
The dining options in Buenos Aires are endless. This is a city that takes dining seriously, and meals can easily last a few hours. Like the national norm, nobody here really starts eating until 9pm. Main courses usually consist of an asado, a barbecue of excellent quality beef. Beef is dominant, and it also comes in the forms of bife de chorizo (sirloin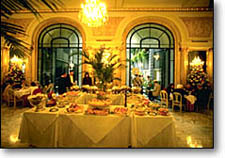 steak) or empanadas (meat pies). The local wine is also good, especially the reds. You also might want to try mate, the traditional gaucho drink. The national deserts are dulce de leche, a milk jelly, and alfajores - Argentine sweets made from dulce de leche.

Buenos Aires is never more alive than it is at night. It is what you'd expect from a city that invented tango. Avenues come alive with people on their way to restaurants and theaters, especially Puerto Madero or Recoleta. People like to dress up and stay out until dawn, and anyone who visits the city should go and see a tango show. There are several major venues, most of them in San Telmo. After dinner or a night of dancing, Porteños like to grab a coffee at one of the city's myriad cafes, chat, and perhaps watch the sunrise.
---
Copyright (c) 1998 - 2010 interKnowledge Corp. All rights reserved.