It is always dangerous to compare the world's continents. Their charms rest in the eye of the traveler, and no two travelers or continents are alike. When faced with the great continent of Asia, however, it is tempting to step back and look at the numbers. Asia represents almost one-third of earth's land mass. Its holds the world's highest point, Mt. Everest, and the lowest point outside of uninhabitable Antarctica, the Dead Sea. It is home to both the largest and deepest lakes on Earth, the Caspian Sea and Lake Baikal. Out of the twelve longest rivers on Earth, seven wind through Asia. All the world's major religions originated in Asia, and two out of every three people on Earth live there.
The countries of Asia are so diverse that on the surface they have little in common. If anything, their commonality lies in diversity itself. Many of the societies in Asia are composed of a multiplicity of ethnic groups and religions, tribes and languages. Interknowledge invites our readers to sample this incredible abundance of landscapes and peoples. Those contemplating an adventure in Asia can take heart in the fact that the continent's overwhelming immensity is also the source of what is perhaps its greatest natural resource--choices.




Click and Explore...
........................................................................................

Burma (Myanmar)
Though haunted by a dictatorship, Burma's isolation has left its myriad historical sites in pristine condition, including the fantastic, gold-encrusted Shwedagon Pagoda in Yangon and the temple complex of Bagan.
India


It has been said of India that no traveler can leave it without strong impressions. Its great heritage as a seat of empires and religions has left it with some of Asia's most astounding architectural achievements, including thousands of ancient temples and the famed Taj Mahal. A large country, India boasts extensive national parks and plenty of opportunities for safari. Trekking in India takes place along various stretches of the Himalayas, including the mystical highlands of Ladakh.

Indonesia
The most famous of Indonesia's islands is the exotic Bali, know for its captivating art and temples, but there are also untold natural and cultural wonders on the much larger islands of Java, Sumatra, Kalimantan, Sulawesi, and in Irian Jaya. Extensive national parks can be found on all of the islands, which are ripe with volcanoes, mountain ranges, jungles, and flora and fauna found nowhere else.

Malaysia
Hanging like an emerald pendant at the tip of Malay peninsula is the remarkable nation of Malaysia, which also possesses extensive territory on the northern half of the island Borneo. Malaysia is a paradise for jungle-trekkers and lovers of tropical wildlife: over half of it's land mass is covered by the world's oldest rainforest. It is also a country that consciously embraces diversity, a trait reinforced by its position as an ancient crossroads in the Indo-Pacific seafaring route.

Nepal
Here the Himalayas reach full strength, rising to their highest with Mt. Everest. Though it is inevitably associated with mountaineering, Nepal also offers superb game viewing and whitewater rafting in some of its lower regions. Nepal is the birthplace of Buddha, and the cultural impact of his life and teachings can be witnessed in the multitude of exquisite temples that dot the valleys and mountain slopes.

Pakistan
Home to the world's second highest peak, K2, Pakistan is among the world's premier mountain trekking destinations, with ample stretches of the mighty Himalayas. The fertile Indus River Valley and its environs, invaded and conquered countless times from both east and west, contains the monumental ruins of some of Asia's greatest empires.

Papua New Guinea
Papua New Guinea is home to some of the most astonishing cultures on Earth, many of which have been isolated from the world until this century. The country's many rivers are great avenues for viewing its wildlife and touring its jungle-clad villages, and its offshore islands and reefs are ideal for marine sports.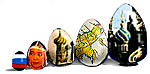 Russia
Dominating the northern half of the continent, Russia and its vast natural and cultural wonders are now open to the world like never before. The west part of the country, with its arterial rivers and traditional ties to Europe, provides a tremendous cultural and historical venue. East of the Urals, along the path of the seemingly interminable trans-Siberian railway, is the Russian heartland. Rich in lakes and wildlife, it bursts with almost every kind of landscape imaginable, and much of it is relatively unexplored.

Thailand
Thailand is one of the only Asian countries to avoid falling under total control of imperialist Europe, a phenomenon that places it in a unique cultural position. Sukhothai, an ancient and impressive capital of a legendary empire, exhibits some of the most extensive and intact ruins in all of Asia. Thailand is also a naturalist's haven with rich parks, highland forests, and hordes of aquamarine beaches.

Vietnam
This scenic, tropical nation has been rediscovered by travelers in recent years; more people than ever are marveling at Vietnamese treasures such as the imperial city of Hue and the abundant, species-rich rainforests. The entire eastern border of Vietnam is defined by the South China Sea, and its limitless beaches are among the finest in Asia. Colonial influences from France and China reach their height in the national cuisine, which is world famous.
......................................................................................................................
AFRICA ASIA CARIBBEAN EUROPE
LATIN AMERICA HOME
......................................................................................................................
This page, and all contents of this Web site are Copyright (c) 1997-2005 by InterKnowledge Corp. All rights reserved.